In this comprehensive guide, we'll address a common issue faced by WhatsApp users – stickers not showing after an update. WhatsApp stickers add fun and creativity to your chats, and it can be frustrating when they suddenly stop working. But fear not! We've got you covered with easy-to-follow steps to fix this problem and get those stickers back in action.
Understanding the Issue
WhatsApp regularly rolls out updates to enhance user experience and introduce new features, including stickers. However, sometimes, after updating the app, users encounter issues with stickers not appearing in the chat window. This can occur due to various reasons, such as incompatible updates, app cache buildup, or minor software glitches.
Troubleshooting Steps to Get Stickers Working Again
Follow these step-by-step solutions to resolve the WhatsApp sticker display issue:
1. Check for App Updates
The first thing you should do is ensure that your WhatsApp is up-to-date. Outdated versions may lead to compatibility problems, including sticker display issues. Visit the respective app store for your device (Google Play Store for Android or App Store for iOS) and check for any pending updates for WhatsApp. If an update is available, download and install it.
2. Clear WhatsApp Cache
App caches can accumulate over time and sometimes cause functionality problems. To clear WhatsApp's cache, follow these steps:
Android:

Go to "Settings" on your phone.
Navigate to "Apps" or "Application Manager."
Locate and tap on "WhatsApp."
Select "Storage" or "Storage Usage."
Click on "Clear Cache."

iOS:

Open "Settings" on your iPhone.
Go to "General."
Select "iPhone Storage."
Find and tap on "WhatsApp."
Click on "Offload App" and then "Reinstall App."
3. Restart Your Device
Sometimes, a simple device restart can resolve software-related issues. Restart your phone after clearing the WhatsApp cache to allow the changes to take effect.
4. Reinstall WhatsApp
If the problem persists, consider reinstalling WhatsApp on your device. Before proceeding, make sure to back up your chats to avoid data loss.
Android:

Go to "Settings" > "Apps" > "WhatsApp."
Tap on "Uninstall" and confirm the action.
Visit the Google Play Store, search for WhatsApp, and reinstall the app.

iOS:

Long-press the WhatsApp icon on your home screen until it jiggles.
Click on the "x" icon to delete the app.
Visit the App Store, search for WhatsApp, and reinstall it.
5. Enable Stickers in WhatsApp
It's possible that stickers might have been accidentally disabled in your WhatsApp settings. To enable them again:
Open WhatsApp and go to a chat window.
Tap on the smiley face icon to access emojis and stickers.
On the bottom of the screen, look for the "Sticker" icon.
If it's not visible, click on the "emoji" icon (the square smiley face) beside the typing space.
Scroll to the extreme right or left to find the stickers section.
Click on the "+" or "Get more stickers" option to download additional sticker packs.
6. Check Internet Connection
WhatsApp stickers require an active internet connection to function correctly. Ensure that you have a stable internet connection, preferably Wi-Fi or a strong mobile data signal.
7. For those who haven't got the sticker feature even after updating through official platforms please follow these instructions.
Go to the official Whatsapp website,
Navigate to the download section,
Choose your platform Android or iOS,
Download the .apk on your Smartphone and install it.
8. Report the Issue to WhatsApp Support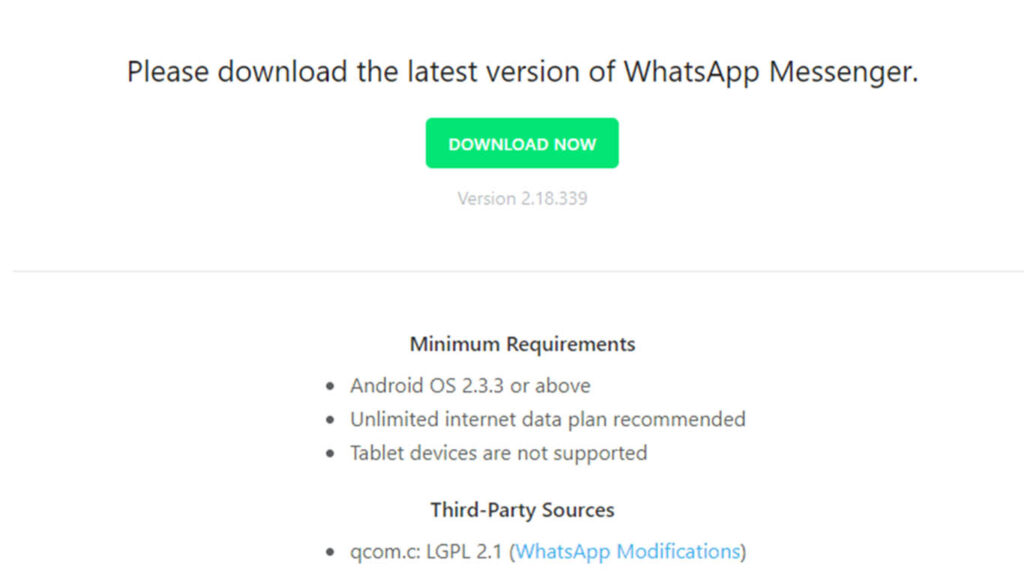 If you've tried all the above steps and the stickers still aren't showing, it's time to report the issue to WhatsApp's support team. They can investigate the problem and provide a resolution in their future updates.
Conclusion
WhatsApp stickers add joy and expressiveness to our chats, but it can be frustrating when they suddenly stop showing after an update. By following the troubleshooting steps outlined in this guide, you can quickly resolve the issue and get back to enjoying your favorite stickers. Remember to keep your WhatsApp updated, clear cache regularly, and report any persistent issues to WhatsApp's support for timely solutions.
Note: Although this process will not delete your existing chat history, you should back up your chats on your local storage or in Google Cloud in case anything goes wrong. Comment below if you face any problems.
Now that you have the know-how, don't let sticker display issues hold you back from having delightful conversations with your loved ones on WhatsApp!